Is your kitchen an entirely different world than your living space? Then I have condolence from my heart for you. That's the same thing I faced when decorating my old house and never considering the kitchen. Well, the good thing is I managed to sync my kitchen laminate cabinets with other cabinets in my house.
So here I'm making a statement on painting the laminate cabinets. You may think it's just a painting, so what's important about writing them down? No guys! Painting cabinets will never work without doing sanding.
So here is my question for you, Can you sand laminate cabinets?
Laminate Cabinets Vs Wood Cabinets Basic Difference
There are many options to take when it comes to choosing cabinets. But you have to be premeditated about whether laminate or wood suits your space better. Before letting you know the difference between them, I would like to introduce you to both cabinets.
Laminate Cabinets
The glossy and more modern style cabinets are mostly made of laminates. Mostly, it is ideal for those who have a limited budget. Laminates are mostly made to resist more moisture and heat. So, it's really good for both bathroom and kitchen.
Limitations: Longer time of use may expand the natural movement of laminates, and it will get delaminate over time.
Wood Cabinets
They are very popular for a traditional style look but have gorgeous texture and depth. It makes them look very premium to anyone. Wood cabinets are heavier and last for longer.
Limitations: It's very much open to moisture and heat. So it requires some protection, like coating over them. Otherwise, the wood will start to crack and fade its color.
| | | |
| --- | --- | --- |
| Topic | Laminate Cabinet | Wood Cabinet |
| Material | They are made of wooden byproducts mixed with resin. | Hard wood combined with plywood. |
| Ease of Cleaning | It rarely gets stretched. Normal household cleaners are good enough to clean laminate. | Stretched more often. You shouldn't use anything monstrous for cleaning dirt. |
| Cost of installation. | Laminate cabinets are lightweight. You can give any shape to it. Budget friendly installation cost. | Handling before installation and installing is tougher for wood cabinets. That's why it costs more. |
Can You Sand Laminate Cabinets
Older laminate cabinets lose their brightness and also get damaged too. But it's much more costly to replace the laminate cabinets again than repainting. The laminate cabinet will look brand new and stylish if you repaint them.
But the question arises, Is it possible to paint them? They don't have textures like wood cabinets, so will the paint stay longer?
Yes, painting will last long on laminate cabinets, but you must first sand the surface. The sanding makes the laminate surface porous. So you have to apply primer to the paint afterward. That's how sanding laminate helps in painting.
How To Sand laminate Cabinets
To give the cabinets a sand, get 120 grit sandpaper at first. Or you can use a Random orbital sander. Now, start doing sand by hand. Try to roughen up the surface. But don't try to sand the laminates too much. Just a light application of sandpaper on the surface.
If you do too much sand, it will leave too much scratch on the cabinets. Even coloring the banninates won't hide the scratches under the color.
Now it's time to clean the cabinets with a soft fabric. Make sure it's completely dust-free. Apply the primer suitable for your painting. The primer first sits on the laminate's surface and is then applied to the paintings.
But if you need more than the smoothness of the color, repeat the process, sanding, cleaning, and painting.
What To Focus When Sand Laminate Cabinets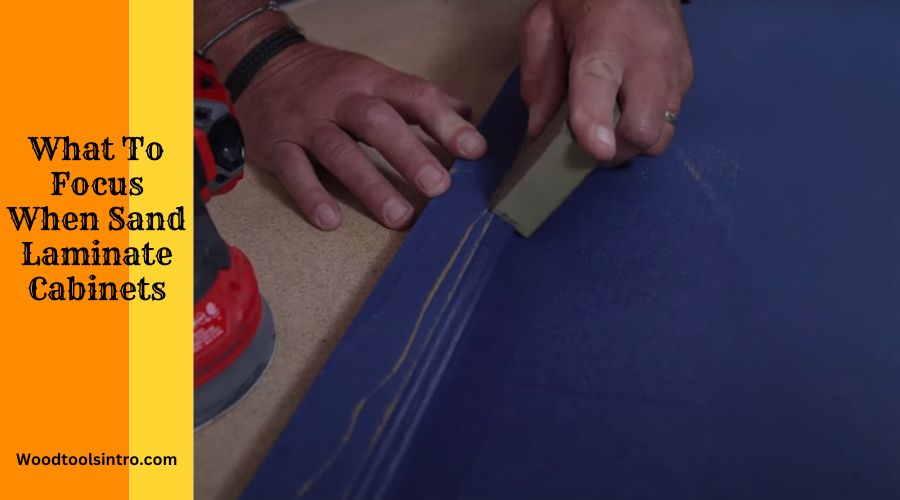 Your hand must reach to sand every corner of the laminate cabinets. Don't sand them, thinking more sanding will give better results, definitely not for laminate cabinets. They only require a quick and gentle sanding on the top layers.
Often the old laminate cabinets are dirty, then first try to clean the surface and then apply the sandpaper lightly on it.
Assess the condition
Firstly, find out whether the laminate cabinet requires standing everywhere.
Right Sandpaper
You guys will use 120 or more grits of sandpaper. Too much coarser sandpaper may damage the laminate surface.
Light Shining
I already told you about light sanding. The gentle strokes will never make the surface look very bare. If you do too much sanding, the scratches will be visible even after a new color.
Tips For sanding laminate cabinets
You must have a protective measure for the cabinets. My personal opinion is not to sand the already damaged areas.
Safety first, don't forget to wear glasses.
Never try to paint on an unclean surface of the laminate cabinets. Make sure the powder is thereafter sanding.
Last Words
Laminate cabinets may be rare among older people nowadays. But you can change its color according to your preparation anytime. There are a lot of tutorials about painting without sanding.
Everyone can change the outlook of kitchen or bathroom cabinets. So don't waste any time on the boring color and things,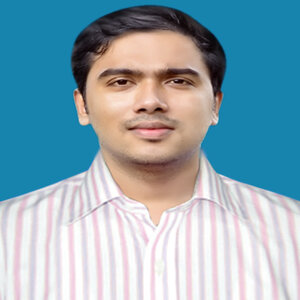 I am Imtiaj Islam. I am a wood working enthusiast, having 6 years of experience in carpentry work. I have a BBA graduate degree from Chittagong College. I got vocational training on wood works from Korean Polytechnic out of the quest and zest he has for carpentry as well. I take several wood projects and keep testing different woodworking tools for comfortable and perfect work. I just love playing with woods and machines.