Though corded sanders are the best choice for most people, a few will be benefitted from the cordless option. But a question arises, which one is best sander for woodwork, corded or cordless sander?
Knowing the ideal condition to use each type is necessary.
Here, we will go for a discussion on corded vs cordless sander to help you learn various types of wired and battery-powered sanders.
Let's dive in!
Types of Sander
Sanders come in mainly two types: corded and cordless. But each of them is available in many sub-types.
Corded Sander
Corded sanders come with a long power cable that allows you to run the machine continuously without worrying about power shortages.
Wired sanders are more practical when you need to work on heavier projects that require hours of operation.
Belt Sander
A belt sander features a pair of spinning drums, which helps to rotate its sanding belt quickly.
They are available in both stationary and handheld versions, allowing you to reshape and finish wood and similar objects.
Drum sander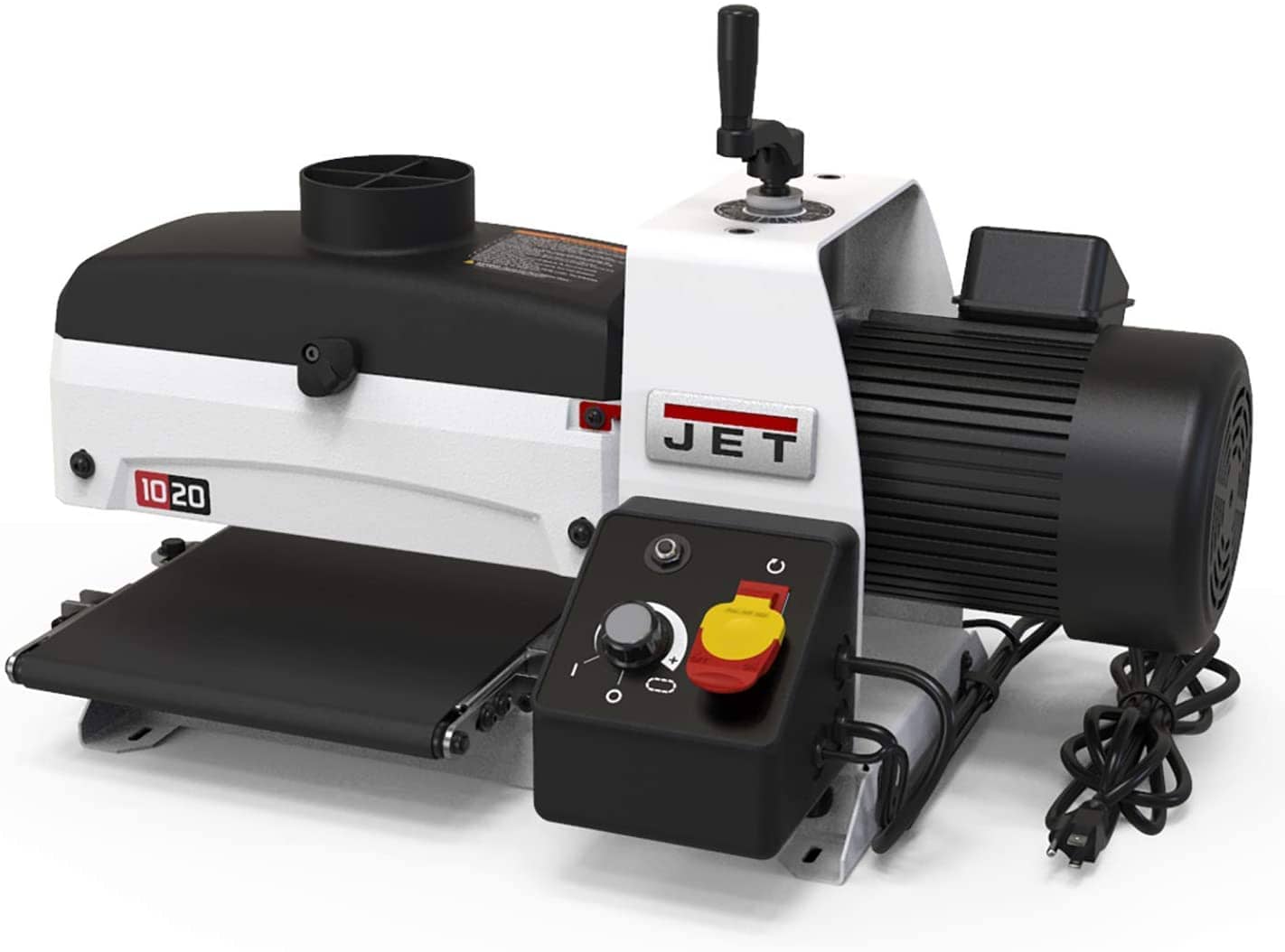 A drum sander is a special power tool that allows you to sand flat surfaces. People use it to make wooden floors or long wood planks smoother.
Belt & Disc Combo Sander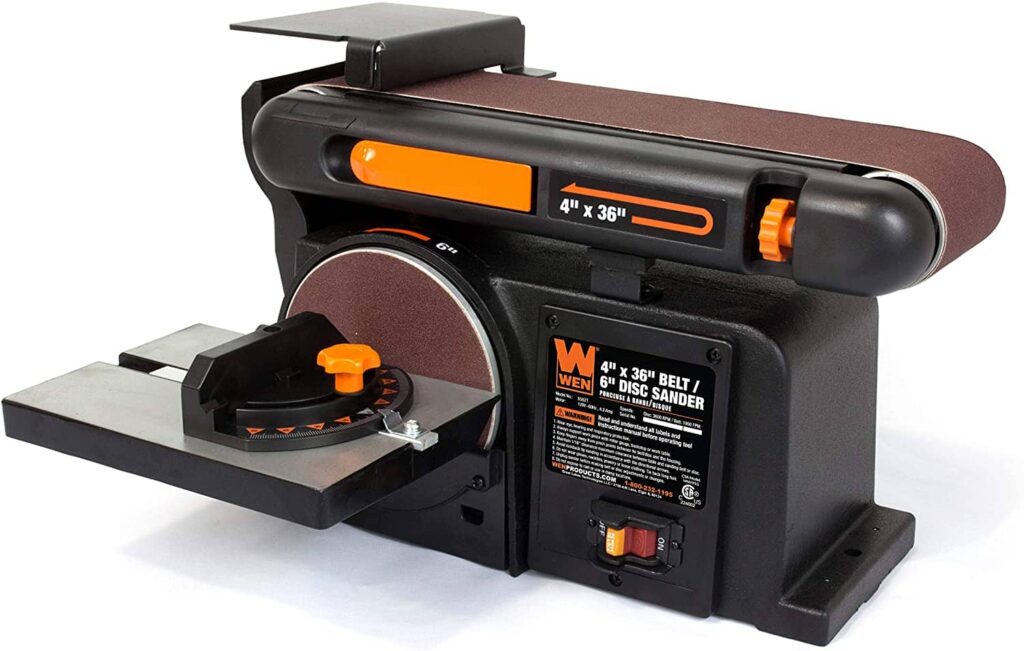 Belt & Disc Combo Sander is ideally used for precise edge work. You can utilize it for jobs that need different speeds.
A few of them come with a protective locking table for effective sanding. It is also called a table top combo sander.
Cordless Sander
A cordless sander has a battery-powered motor that allows you to use the machine for any DIY projects. It is convenient to use for hard-to-reach areas without any limitations.
You can carry the sanding machine anywhere you want to tackle sanding jobs. Getting a high-quality finish is another plus point of cordless sanders.
Orbital Sander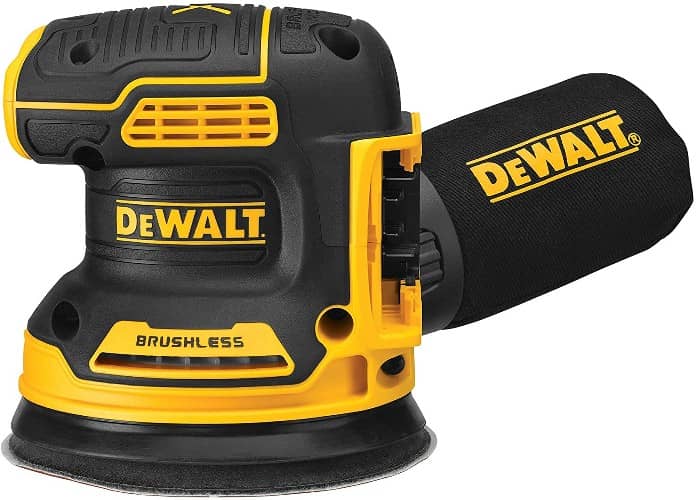 An Orbital sander is a handheld sanding machine that allows you to sand any wood objects at a precise rate and achieve a superb finish and surface.
Palm Sander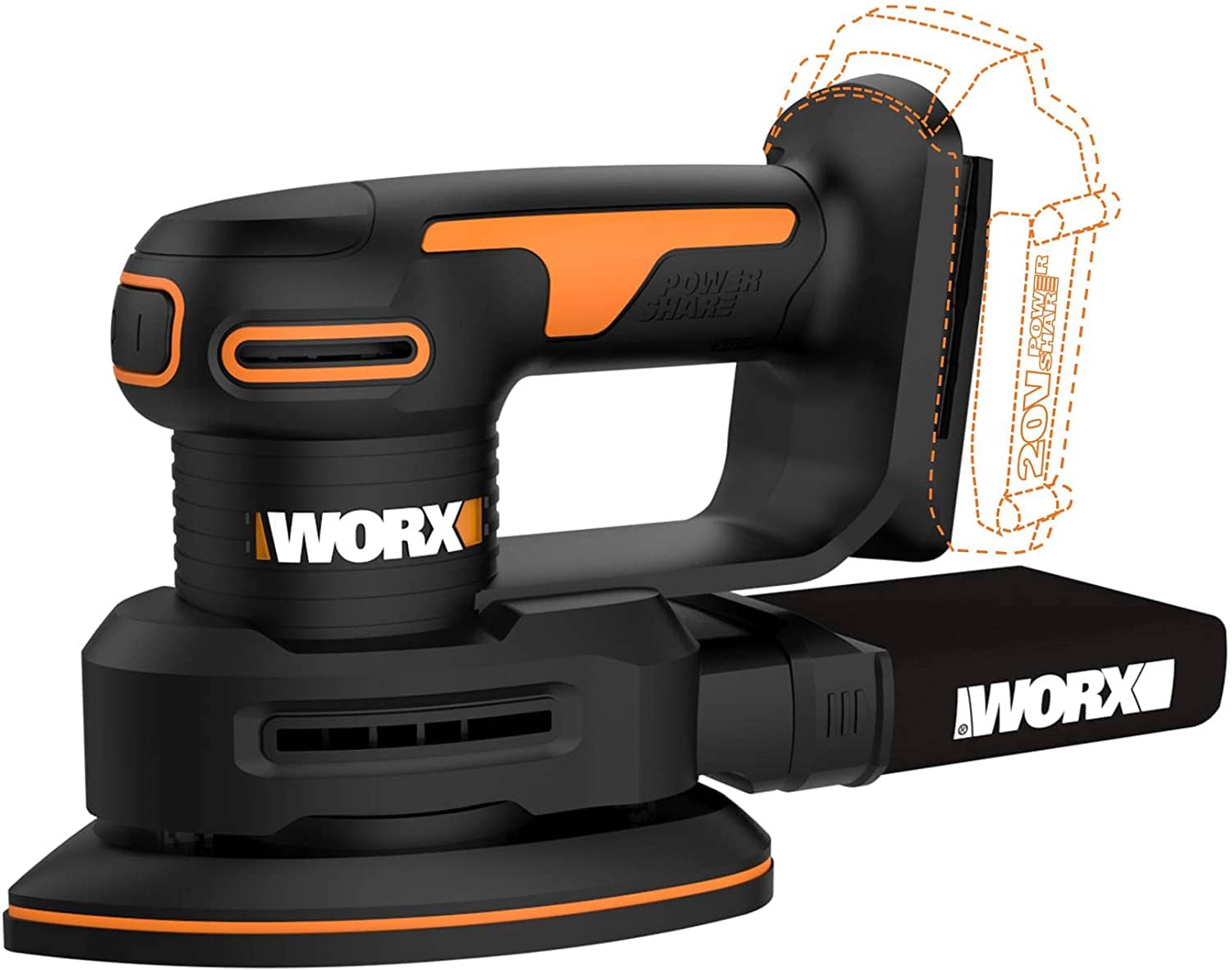 A palm sander is an incredibly powerful tool for terrific wood finishes apart from working on a myriad of materials. This small-sized machine is workable with one hand.
Sheet Sander
A Sheet sander is a lightweight, affordable, and user-friendly machine moving laterally. This handy tool comes in a rectangular shape. Working on tricky areas and corners is easygoing.
Which Type Is Sander Best For Carpentry?
Woodworking projects come in hundreds of types. Many corded and cordless sanders are specially designed to handle different types of woodwork.
When Cordless Sanders Are Better For Carpentry?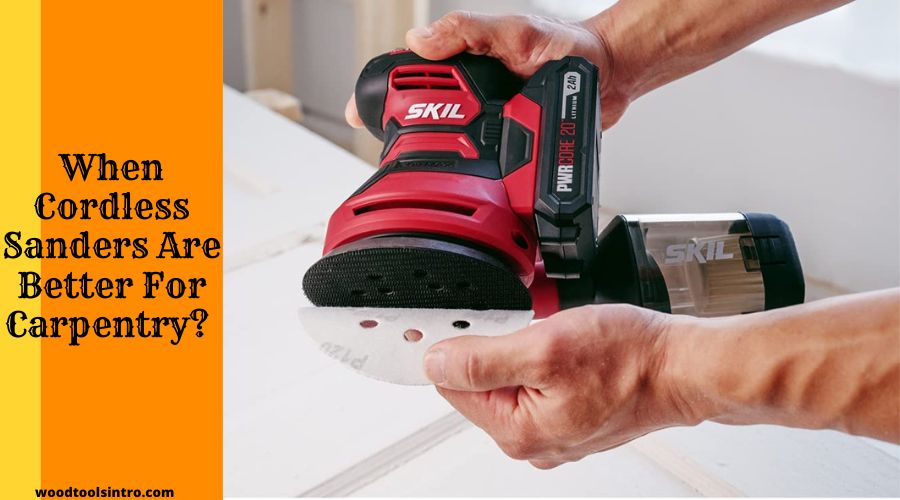 If your on-site projects don't have direct access to a power outlet, cordless sanders appear a better choice. But you can't operate them continuously for hours.
What's more, cordless sanders allow you to reach many restricted areas. Hence, you can get your desired finish and shape by working on the surface more precisely.
Plus, you can control the speed more accurately as cordless sanders are less aggressive than the corded sander.
When Corded Sanders Are Better For Carpentry?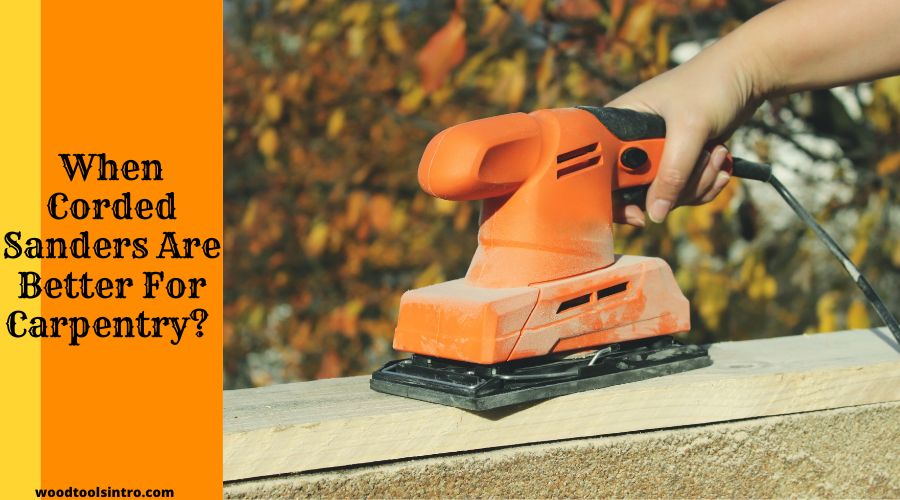 In contrast, corded sanders can show reliable performance if you need to get rid of roughness from your particular wood surface.
The powerful tool is good at scraping a surprising amount of material rapidly. However, knowing the correct technique to operate the machine is mandatory.
Benefits & Drawbacks of Corded and Cordless Sanders
Both wired and battery-powered sanders have pros and cons. You need to decide first what you want from the sander and what thing you can compromise.
Corded Sander
Benefits
Cordless sanders come with a relatively affordable price tag.
You can operate them as long as their cable is connected to the power source.
They are ideal for every long-term project.
Drawbacks
They can be a little bit more aggressive if not handled appropriately.
You can carry them up to your wire cable permits.
Cordless Sander
Benefits
They are not highly aggressive, so you can control them more easily.
Battery-powered sanding machines provide flexibility to work on various tricky and hard-to-reach zones.
Drawbacks
Cordless sanders have a higher price tag because additional batteries need to purchase separately.
You can operate them for a limited number of hours until the battery has a charge.
Battery-powered sanding machines are heavier due to their batteries.
Which One Gives The Best Finish On Wood?
When it comes to wood finishing, both corded and cordless sanders can show reliable performance. You just need to know the right way to use the machine.
Operating the sanding tool requires you to implement the correct speed, angle, ideal sandpaper grit, pressure, and start & stopping area.
However, according to most experts, corded Random orbital sanders are the best choice to achieve a fine finish on the wood surface. It comes in handy if you are working rougher surfaces.
This sanding machine is pretty powerful in giving the wood surface a smooth and clean look. But be cautious while using it to avoid overdoing it.
What Type Of Sander Is The Most Versatile?
Cordless sanders are more versatile than the wired version when you need to work on different types of tricky areas. They can help you achieve more preciseness since it doesn't have any cord to limit your work in various places at different angles.
In contrast, corded sanders can also show more versatility when you need to shift between higher and lower pressures. Its unlimited power allows you rapidly change the speed depending upon your work type.
But the speed of cordless sanders will reduce if their charge drops significantly. Hence, you can't shift to too high a speed when you need to work on rougher surfaces. This gives you less flexibility.
Final Thought
That's the end of our discussion on corded vs cordless sander. Choosing a particular version of the sanding machine requires you first to determine your project requirements and pick a perfect one.
If you generally work indoors, corded sanders appear the best choice. You won't have to be concerned about power shortage in the middle of work.
However, if you regularly work outside areas, you will need a dedicated cordless sander that works at least for several hours to finish your jobs. You need to be a pick, though.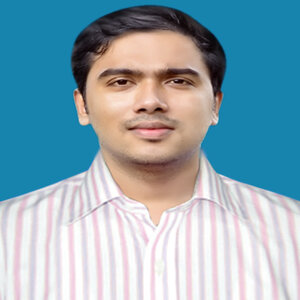 I am Imtiaj Islam. I am a wood working enthusiast, having 6 years of experience in carpentry work. I have a BBA graduate degree from Chittagong College. I got vocational training on wood works from Korean Polytechnic out of the quest and zest he has for carpentry as well. I take several wood projects and keep testing different woodworking tools for comfortable and perfect work. I just love playing with woods and machines.