When it's about getting a handheld belt sander, finding one that can satisfy you will not be easy. Often you will come across several problems.
Some may be too heavy to carry and work with; some will have durability issues. And some will lack the speed or power to do a job properly.
That's why I am here to help you get the best handheld belt sander to suit your needs. And not only that, you will get all you need to know about belt sanders here. So, consider this as your guide to belt sanders.
Now, without wasting any time, let's get going with it.
Are you in hurry?
Check Out Our Top brands Of Handheld Belt Sanders
Which brand of belt sander is the best
All the sanders that we have mentioned are best in term of either for performance or for features. If you ask me to mention the best brand then I would definitely go for Makita belt sander for overall performance it renders. For speed I would say Wen is the best. And for price I would choose Jellas. But you should choose sander based on performance not price.
What Is A Handheld Belt Sander?
A handheld belt sander is a special type of sander that helps shape and finish wood surface. The device has an electric motor that aids you in making the surface smooth or level automatically.
Handheld belt sanders come in a portable size for easier movement. It is often called a two-handed tool. Unlike normal belt sanders, this device features narrower belts under the grip area which you can hold in hand and use as you wish.
What Is A Handheld Belt Sander Used For?
Handheld belt sanders are an excellent choice for working on larger objects. You can effortlessly move the device further. It gives you excellent maneuverability.
This device allows you to sand, grind, trim, and level uneven surfaces of wood lumber or any wooden substances. You can also utilize the sander to give small objects a refined shape and size.
So basically a hand held sander is used in any wood work projects, on furnishers, kitchen cabinet finishing, floor furbishing etc.
Type Of Belt Sander Work
Well, you will find a wide variety of belt sanders out there. Here, I will discuss two types of sanders. One is a mini handheld belt sander, and the other one is a power belt sander.
1. Mini Handheld Belt Sander
A mini handheld belt sander is a handy tool you can use for sanding wood or polishing metals. It's suitable for lightweight sanding work as it doesn't necessarily have that much power. You can do some grinding, trimming, and leveling with this tool as well.
They are usually very compact and lightweight, which gives you reasonable control over the machine.
2. Power Belt Sander
Contrary to the mini-handheld belt sander, a power belt sander is more focused on power. They can be a bit heavy and harder to maneuver, but they do have great power. You can do a lot of heavy sanding, grinding, or leveling work with this one.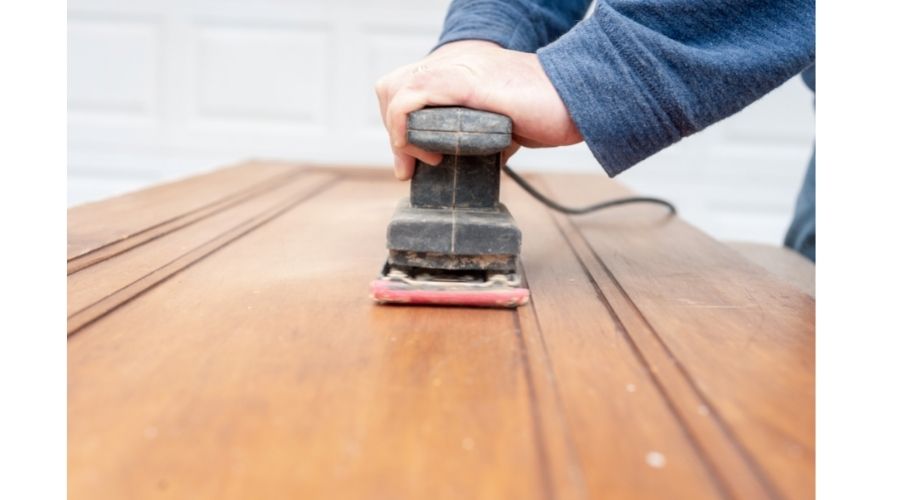 They can be both portable and stationary sanding, depending on their functionalities.
How To Use A Handheld Belt Sander?
Interested in learning the perfect way to use a handheld belt sander? Here is the step-by-step guideline to utilize this device effortlessly.
Step: 1
At first, you need to keep any loose-fitting clothes far away from the handheld sander. After all, this device has a significant amount of torque. So, it can catch things like clothing, hair, pin or jewelry when they are nearby.
Step: 2
Turn on the motor. Let it come at full speed. Now, use both your hands to operate the device. Keep one hand on the forward handle to ensure stability and another on the trigger handle.
Step: 3
Move the motor tool a little bit down but forward motor. Make sure the end roller of the machine touches wood before other parts of the sanding face contact the object.
When sanding a particular object, the belt will come close to it. Hence, the sander will move forward. Make sure to hold on to the device tightly to avoid unwanted movement.
Step: 4
Move the sander in a forward motion on the wood grain. Avoid keeping it in one spot. Otherwise, it may tear the stock if the belt is extremely rough.
Additionally, don't work continuously. Take a break after a few minutes of sanding. And check out the work progress. Avoid adding too much pressure on the sander.
Go slowly in a forward motion. Too much pressure may overdo the work. It may sometimes ruin the entire surface
Benefits Of Handheld Belt Sander
Let's start by going through the benefits of a handheld belt sander. Why should you worry about getting the best one anyways? What is the value of a belt sander?
Here are the benefits –
You can use a belt sander to smoothen out edges for your woodwork easily. It doesn't require too much effort, like using sandpaper.
With a handheld belt sander, you get the freedom of portability in the machine. They are easy to maneuver and work with.
A belt sander can also help you in polishing any metal and get rid of the surface residue.
They can save up a lot of your time with quick functionality.
It's much more convenient to use a handheld belt sander because you can use it whenever and wherever.
Working on heavy and large wood becomes much easier with a handheld belt sander.
You can do precise smoothing or polish with a handheld belt sander.
As you can see, there are too many upsides to having a handheld belt sander over any other sanding equipment. Especially if you have a large piece of wood or metal or even planning on some floorwork, a handheld belt sander is the best for the job.
Best Handheld Belt Sander Detailed Review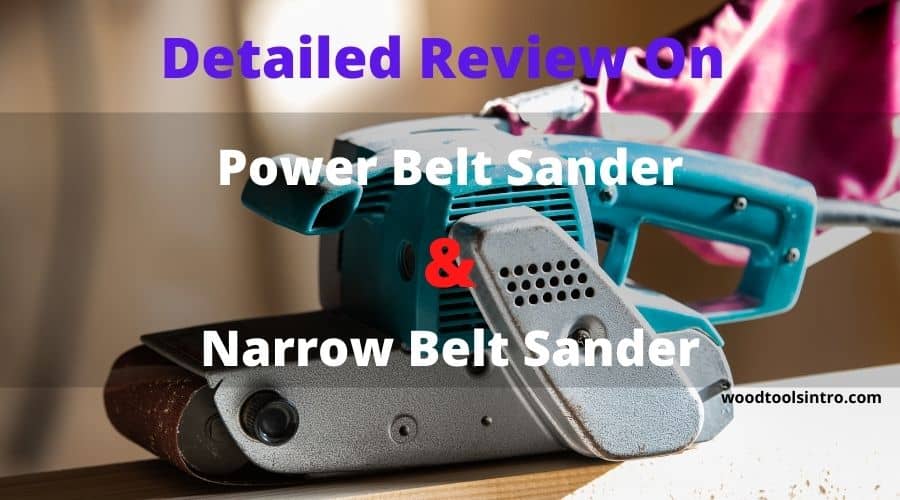 Now, it's time to check out the belt sanders that you can consider buying. These come with excellent quality and performance with minimal to no issues at all. Let's have a look –
Best Handheld Mini Belt Sanders
1. Makita 9031 1-1/8″ x 21″ Belt Sander (Handheld industrial belt sander)
While the lightweight is great for comfortability, the ergonomic design and side handle with multiple positions add up to it even more. With the narrow belt reaching into corners becomes a breeze too.
Something that makes it unique is the power and speed this brings for you. You get industrial quality variable speed control of 656 to 3280 feet per minute. Even with a constant speed throughout the usage, it doesn't die on you.
2. WEN 6307 Variable Speed Detailing File Sander with 1/2-by-18″ Belt ( Best belt sander for paint removal)
Getting this kind of speed control on a compact sander like this is just extraordinary.
Anyone looking for a sander to remove paints will love to have this wen file belt sander. It has a weight of 2.4 lbs which makes it easy to carry around for hours. This makes it perfect for tasks like paint removal.
---
Astro Tools 3036 (Best Air Belt Sander )
Overall, the product promises and delivers high quality at an affordable rate, and that's why it has become a user favorite.
Why You Should Buy It
Besides the significant reasons one should get this piece, it's also commendable that the product holds up so well due to its high versatility, longevity, and lightweight features.
Don't look any further if you're looking to invest in a belt sander that can deliver top-notch, consistent results with high value for money.
Check Astro Air Handheld Mini Belt Sander At Amazon
Best Handheld Belt Sanders
#1. Metabo HPT Belt Sander (professional belt sander)
One of the best things about this sander is this it thrives on single-phase power. So, if you want a powerful belt sander to use at home, it's a great option for you.
Check Metabo Hpt Belt Sander At Amazon
#2. CRAFTSMAN Belt Sander, 3-Inch x 21-Inch (CMEW213) – Best Belt Sander For Speed
Now, this is a sander for someone who is always short on time. With the 7amp motor and the lightweight design, you can get past sanding works very quickly.
Read our detail guide on Craftsman Belt Sander Review.
Check Craftsman Belt Sander At Amazon
Makita 9403 Belt Sander review (Best 4 x 24 Belt Sander For Woodworking)
Why You Should Buy It
Two significant reasons people keep coming back to this Makita piece are its noise reduction feature and high ergonomics. To be fair, you get a brilliant deal of excellence and durability at a highly affordable price point.
So, if you're solely looking for easy maneuverability, ergonomics, and value for money – this is it.
Check Makita Belt Sander At Amazon
SKIL 6 Amp 3" x 18" Electric Belt Sander (Best Portable Belt Sander)
The most prominent features in this have to be the flush edge sanding capacity with maximum efficiency, single belt lever changing technology, and the lock-on trigger button.
Why You Should Buy It
The feature that stands out the most in this Sand cat Sander is its intuitive pressure control technology that eliminates all chances of excessive pressure applied to the tool.
This swipes out the circumstances of the belt snapping, keeping the user safe and delivering high value for the buck
Check Skill Belt Sander At Amazon
GALAX PRO 8 Amperes Belt Sander (Best Belt Sander For Furniture)
Another big hit in this long cabled sander is the speed adjusting dial, which gives high versatility in any project you're willing to undertake.
The grinding belt has a specification of 76x533mm followed by P80 grits worth of 5 belts and a grinding surface of 75x170mm. This pretty much sums up why the most robust sanders out there.
Why You Should Buy It
This is the most practical sander belt out there, with quick and accessible facilities. But, don't take its easy maneuverability as a weakness, as it's also undoubtedly the most powerful, durable, and ergonomic belt in the market.
Check Galaxy Pro Belt Sander At Amazon
WEN 6321 Corded Belt Sander (Belt Sander under $100)
The product comes with a compact design for easy storage. Additionally, it has only six pounds weight. So, say bye to fatigue issues even after working several hours. Plus, the unit has a removable debris collector. You don't have to worry about messing the entire area with dust.
Another unique point of this sander is its safety locking feature. This allows you to sand continuously. Hence, you don't need continuous hand support on the trigger area.
Why Should One Buy This One?
This WEN Corded Belt Sander is a reliable choice if you want to sand wood or other materials smoothly, continuously, and precisely.
Check Wen Belt Sander At Amazon
Jellas Belt Sander (Best Floor Sander)
The entire package includes ten pieces of Sanding Belts. They come in different grits to save your money. Changing the belts is simple. Plus, the belt stays in place after adjusting it.
What's more, the unit features a removable dust collecting bag. Unlike dust boxes, it has exhaust holes. So, dust will get inside the motor. This ensures a long-lasting lifespan of the motor.
Why Should One Buy This One?
If you are looking for a compact belt sander with several speed options, this belt sander appears a perfect pick.
Check Jellas Belt Sander At Amazon
BLACK+DECKER Belt Sander (low profile belt sander)
Since it comes with a corded design, you don't have to worry about runtime issues. Handing longer projects that involve hours of operating will be easy-going.
Why Should One Buy This One?
This option is one of the best choices if you expect to have a sander that has several handle positions and works continuously without any limited runtime.
Belt Sander Troubleshooting And Fixing (Step By Step)
Now, if you are going to buy a belt sander, it's also important to be aware of its problem. There are some common problems that most belt sanders go through.
Let's see what they are and how you can fix them.
Note: This Troubleshooting technique is applicable to any mini belt sander. you may troubleshoot makita belt sander, wen belt sander, skill belt sander, metabo belt sander etc.
1. A Broken Belt
When you have a broken or damaged belt, you will see frayed edges or damaged joints and tears on your sanding belts. There are several causes to this problem.
I will go through them one by one.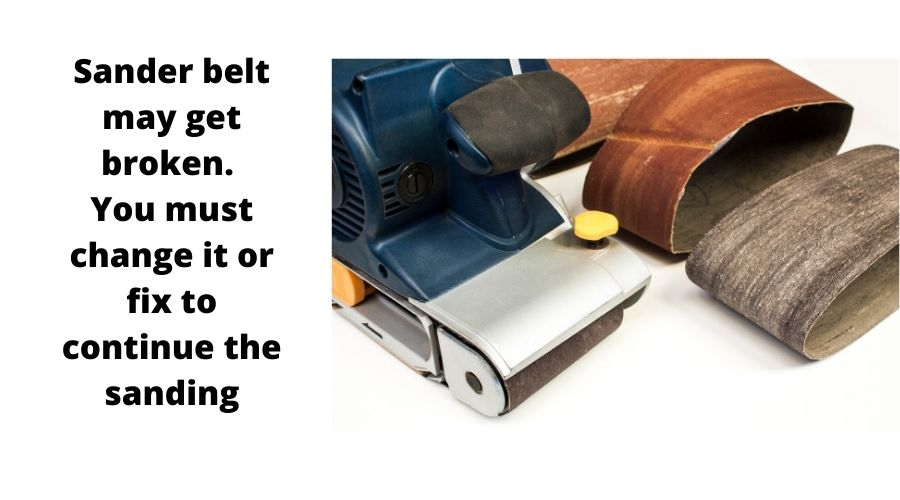 Excessive loading
The most common scenario for this problem would be excessive loading. This happens when some particle gets stuck in the sander or your work piece, especially when you have work pieces that have different thicknesses throughout the chart.
How To Fix
To fix this from happening, you can clean up the piece you are working with first. Then, you can make sure that all the details you are working with have a similar thickness. Lastly, you have to check the grit sequence and ensure you have the correct sequence set up.
Belt Joints Are Going Bad
Another way you can end up with a broken belt is through bad belt joints. While this can be a manufacturing defect, it can also happen over time due to the usual wear and tear of the belt.
How To Fix
To make sure the belt isn't going bad prematurely, you have to use your belt sander in the right direction. This means that if you have a sander where the belt goes in one direction, you have to use it in that direction.
Damage from storage
What many people will miss out on is the proper storage of a belt sander. It's essential to make sure that you are maintaining the integrity of the belt of your sander. When you store a belt on the floor, it can quickly absorb a lot of moisture and damage.
How To Fix
Instead of keeping your belt sander on the floor, hang it up somewhere on a wall. This will keep the belt sander away from too much moisture exposure.
2. Improper Belt Tracking problem
If the belt of your sander isn't tracking correctly, then it will run into wear and tear much quicker. The misalignment of the belt during its use may slide it off the roller, moving it away from its natural position. This damages the belt quite a lot. Now, several reasons cause improper belt tracking on your sander.
Issues with the laser eye
The most common issue with the laser eye is some obstruction. When something is blocking the laser eye, it can cause tracking issues on your belt sander.
How To Fix
It's a simple fix; all you do is clean up the laser eye to ensure it's free of dust.
Faulty Tension Pressure
If the belt of your sander has the wrong tension pressure, it will affect the tracking a lot. With too much tension, the cylinder will get overwhelmed, and it will lack the pull to stay on track with too little tension.
How To Fix
You can adjust the tension of the belt with the proper settings. Try following the manual from the manufacturer to get the excellent value of the tension in your belt.
Issues From Storage
Just like the previous problem, when your belt sander gets too much moisture, the shape may change a little. This can cause issues with belt tracking.
How To Fix
An easy fix to this is to hang your belt sander rather than storing it on the ground. Also, please keep it in places where there is less possibility of moisture buildup. Now, these are the typical problems you will mostly come across as a belt sander. While they might not be the most problematic problems, you still have to know these when buying a belt sander.
Safety Tips
Let me clear something out, working with a belt sander involves some risk to your eyes, face, and hands. Due to that, there are some safety tips you will need to follow to eliminate that risk.
Use protective gears
While working with a belt sander, you will need to use several protective types of equipment. The first thing is to have impact-resistant eye protection. Then, you will need a pair of work gloves. Another essential gear is a face mask which prevents you from breathing in the dust while sanding.
Always stand away from your body.
Whenever you are using the belt sander, make sure you are using it away from your body. You have to keep the belt motion going the opposite direction of where your body is. Otherwise, you may hit yourself with the sander and cause an injury.
Inspect everything before using
As there are several risky moving parts in the machine, you have to be cautious. Check up on the discs and belts of the sander every time before using it.
Because when these parts are damaged or broken, and you use the machine anyway, it can be very dangerous to work with.
Use both your hands for the job.
No matter how strong you are or how light the sander is, always use both your hands. Because the sander will move at an inhuman speed, and when that happens, you can't keep up with one hand. As a result, the machine will slip and cause serious havoc.
Never get your hands close to the belt.
Well, you can't put your hands on the belt while the machine is turned on. Otherwise, you know what can happen to your hand, even if you are wearing protective gloves.
These are some simple yet essential safety tips to keep in mind while working with a handheld belt sander.
Handheld Belt Sander Maintenance
To make sure your belt sander is performing properly, you will need to go through some maintenance. A great thing about belt sanders is that they don't require too much maintenance. Just keep track of 4 issues, and you are good. Let's take a look at them –
This is the most important part that requires maintenance. You have to check the belt for wear and tear. Make sure to check the belt thoroughly for any damage at all. Other than that, you have to replace the belt when it has gotten old, or you have used it too much.
You also have to keep the rollers in check. Make sure they are correctly aligned and are placed parallelly. Also, see if the rollers are functioning correctly or they have any cracks or not. You also have to make sure the rollers are tracking according to the manufacturer's recommendations.
In your belt sander, there is something called a platen. It's the part that stays between the boot and the belt. Over time this part wears away because of usage.
So, when that happens, you have to replace the platen with a new one. You will know you have to replace it when you see the metal appearing too thin.
To give your belt sander a thorough cleaning, you will need to use a vacuum cleaner. It gets rid of all the sawdust it got from working and cleans up most debris buildup.
Following these maintenance, habits are enough to keep your belt sander working for a long time. Also, you can opt for cleaning the machine from the surface after every use.
How To Choose The Handheld Belt Sander (Buying Guide)
Now, the real question is, how do you choose a belt sander that suits your needs the most? Well, you go through some factors and consider your needs based on them. Here are the factors you should be thinking about –
Sandpaper
Of course, the core part of a belt sander is its sandpaper.
Power
Power is an excellent concern for buying a handheld belt sander. It's always better to go for a more powerful sander. Typically, having a motor with 5 to 10 Amp is good enough power for a handheld belt sander.
Speed Range
Here, you will face two options. You get either a single speed sander or a sander with variable speed. Usually, variable speed is a better option because you will have more control over the speed of your sander.
Weight
Since handheld belt sanders are all about portability and using them with your hands, you want something lightweight. But make sure not to go too lightweight as that may make it difficult to control the sander.
Belt Grit
Belt grit is an essential factor as it determines the result you get on your projects. Without the proper belt grit, your belt may wear out sooner than you would expect. That's why going for belt grits like 220, 120, or 80 is an excellent place to start on.
Durability
A common issue with many handheld belt sanders is the lack of durability. They don't have the sturdy materials that can make them last longer.
As a result, you end up with a broken sander after a while. That's why you have to make sure the sander you are buying comes with good quality materials and provides you with great durability.
Can I refinish a small floor with a handheld belt sander?
I will not go around and cut right to the chase; yes, you can refinish a small floor with a handheld belt sander. It's one of the best tools to do the job quickly and with less effort. This essentially works like a floor sanding machine.
You can cover most of the floor using the handheld sander and then finish off the corners with a sanding block. You can quickly get rid of all the old finishes, dents, or scratches on the floor. Altogether you can give your flooring refinish that makes it look much better.
FAQ
Wrapping up
To sum it up, you can get the best handheld belt sander if you know what you should be looking for. Also, if you know the problems with most of the sanders, you can simply avoid them. As for the ones I listed here, they all have their definitive purposes.
You can go for any one of them based on what you need. And if you are just getting into belt sanders then, I sincerely hope this guide was enough to help you out; get on with that.
Also Check out