When you have to sand a tabletop, you must find the best one possible. The reason is that the sander gives you the finish and look you want to have on your tabletop. And for a tabletop, it's undoubtedly all about the looks.
Yes, you can find a lot of sanders suitable for tabletop, but not all of them can deliver quality. That's why I am here to help you out. And it's not just about the sanders here; I bring you a complete guide to sanding a tabletop.
So, let's not waste any time and jump right into the whole thing.
Check Out Of Our Top Brands Sander For Table Top
Product
Name
Description
Price
DEWALT Random Orbit Sander
Item Dimensions
10.38 x 7.25 x 6.18 inches
Grit Type
Coarse
Power Source
Corded Electric
Amperage Capacity
3 Amps
Check Price
Makita Random Orbit Sander
Item Dimensions
15 x 7 x 10 inches
Grit Type
Medium
Power Source
Corded Electric
Amperage Capacity
3 Amps
Check Price
CRAFTSMAN Random Orbit Sander
Item Dimensions
10.13 x 5.5 x 5.75 inches
Grit Type
Coarse
Power Source
Corded Electric
Amperage Capacity
3 Amps
Check Price
Makita Cordless Random Orbit Sander
Item Dimensions
5.16 x 8.07 x 6.89 inches
Grit Type
Medium
Power Source
Cordless
Battery Required
Yes
Check Price
WEN 6321 Corded Belt Sander
Item Dimensions
12 x 6 x 6.5 inches
Power Source
Corded Electric
Amperage Capacity
7 Amps



Check Price
Makita 9403 Belt Sander
Item Dimensions
9 x 16.1 x 9.76 inches
Grit Type
Medium
Power Source
Corded Electric
Amperage Capacity
11 Amps
Check Price
DEWALT Rotary Sander
Item Dimensions
9.9 x 8.2 x 4.6 inches
Voltage
120 Volts
Power Source
Corded Electric
Amperage Capacity
6 Amps
Check Price
Ryobi Sheet palm Sander
Item Dimensions
4.5 x 5 x 7 inches
Power Source
Battery Type
Grit Type
Medium
Check Price
Also Check
Types Of Sanders To Use on A Tabletop
You can use different types of sanders to use for getting the perfect finish on the tabletop.
Let's check them out one by one and see which suits your preferences the most.
Random Orbital Sanders
When it's about sanding wood on a more gentle and finer level, a random orbital sander works the best. With random orbital sanders, you won't get any scratch marks on the wood, which is an excellent benefit of this sander.
This kind of sander is perfect for a bit larger space where you don't want to put too much power or roughness. The finishing stays soft, and you can quickly get that without damaging the surface at all. It's not the perfect solution for smaller projects because of the size.
It's a perfect sander to use whenever you have to sand a reasonably medium to a large surface.
Belt Sanders
Belt sanders are perfect for medium to heavy woodworking projects. They can remove a lot of material without any issues whatsoever. It's pretty easy to use as well. The best part is removing material using a belt sander very quickly and with minimal effort.
They are more suited towards heavy sanding work but on a smaller scale. You can just use handhold belt sanders to remove materials from surfaces while not damaging the material's interior. It's not the best for finishing the surface, but it's suitable for preparing it to get the desired finish.
Also, belt sanders are versatile in usage; you can get a powerful one for professional purposes. And you can get a moderate-powered one to meet your DIY needs.
Rotary Sanders
In terms of appearance, the rotary sanders are pretty similar to random orbital sanders in functionality with a square sanding pad. However, they are much more powerful in removing materials from surfaces like belt sanders. So, you can call it a combination of a belt sander and a random orbital sander.
This one is great for removing rust, polishing metal, sanding paint, and varnish. It's excellent for removing materials from a larger surface area than a belt sander. However, it's not as versatile as a belt sander. Also, there can be issues like scratch marks.
Palm Sander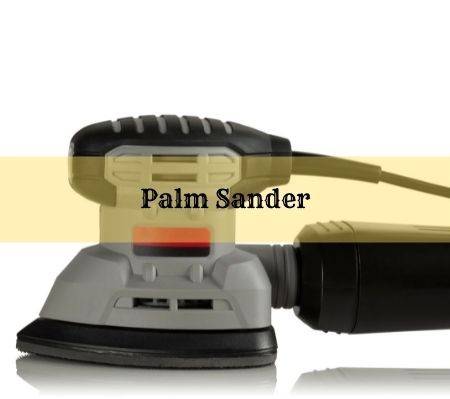 A palm sander works the best when you have to repair or refinish wood or furniture. The size is suitable for working on smaller dimensions, making it a perfect choice for small jobs. It doesn't thend of power to remove materials from a surface like the other ones.
However, you can still count on a palm sander to remove some material and provide a clean finish on your woodworking projects. You won't have to worry about whether it's a heavy-duty project or not in that aspect.
There are other types of sanders you can find out there, but these are the best ones without any question for sanding tabletops. Which one you choose depends on your projects.
If you have to work on a huge tabletop and remove a lot of material, the rotary sander works the best. But if you are working on a comparatively smaller table, you can use a belt sander to remove a lot of material.
As for lighter sanding purposes or finishing touches, you can use random orbital sanders when you have to cover a larger surface area. And for smaller areas, you can use the palm sander. That's pretty much the gist of using all these types of sanders for sanding a tabletop.
Top 4 Best Orbital Sanders For Tabletop
Let's dive into the real deal here. I bring you some of the best sanders you can find out there for the sanding tabletop. These are sure to give you satisfying results throughout the usage.
#1 DEWALT Random Orbit Sander, 5-Inch
This can be an excellent pick for anyone looking for a random orbital sander. One of the best parts of this sander is how close it lets you get to the workpiece because of the smaller height. This way, you can have reasonable control over the work.
With the 3-amp motor, you can expect decent power from the oscillating motors that spin at around 8k to 12k OPM. So, you get variable speed options for versatile usage.
It's a corded sander so that you can expect a longer runtime without any second thoughts at all.
Good Side
The sander is very easy to use, even for beginners
It has got decent power on the motor
This comes with a variable speed option
It works very smoothly without too many vibrations
The sander is lightweight and easy to control
Bad Side
It doesn't have an attachment for the shop vac
Check Dewalt Orbit Sander At Amazon
Also Check Out Our Guide
#2 Makita BO5030K 5″ Random Orbit Sander, with Tool Case
Here's another random orbit sander to fulfill your smoother sanding purposes on a tabletop. It packs up quite a punch as a random orbit sander and delivers extreme performance.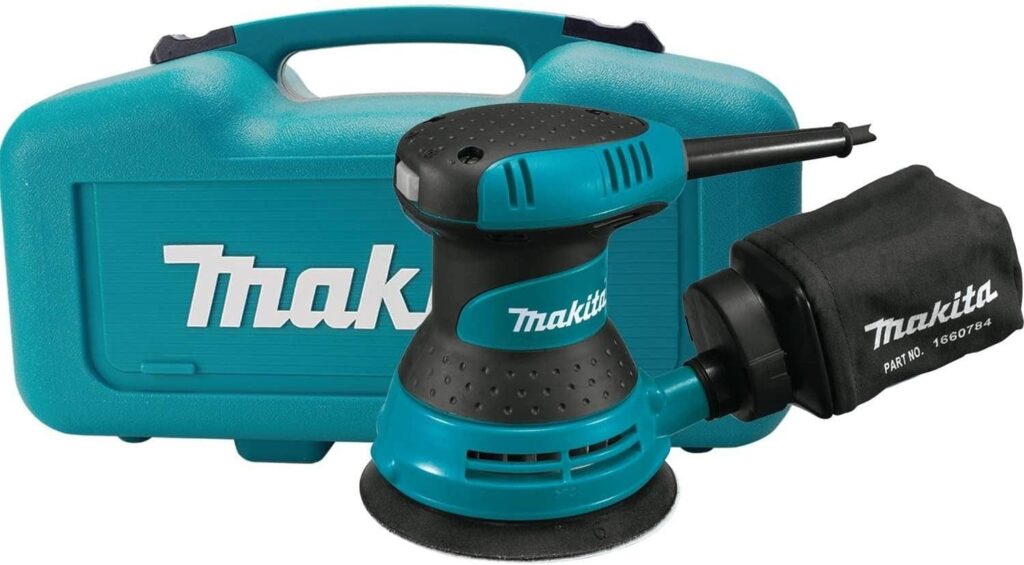 Starting, you get a large sanding pad of 1/8″, which provides fast and smooth sanding performance. It's paired up with a 3-amp motor and 12000 OPM on the speed.
You get an excellent dust collection system through the pad to make things much more efficient. This makes the cleaning up process after sanding much easier for you.
Good Side
The sanding functionality is smooth and quick
You get dust collection right under the pad
The controllability is quite impressive on this
It's a value for money sander for everyone
The sander is very comfortable for use
Bad Side
It doesn't have variable speed options
The hook holding the pads can be an issue at times
Check Makita Orbit Sander At Amazon
#3 CRAFTSMAN Random Orbit Sander, 3-Amp, Corded
If you are concerned with getting an affordable random orbit sander, then I have got the perfect thing for you. Craftsman orbit sander is super cheap and, at the same time, super reliable.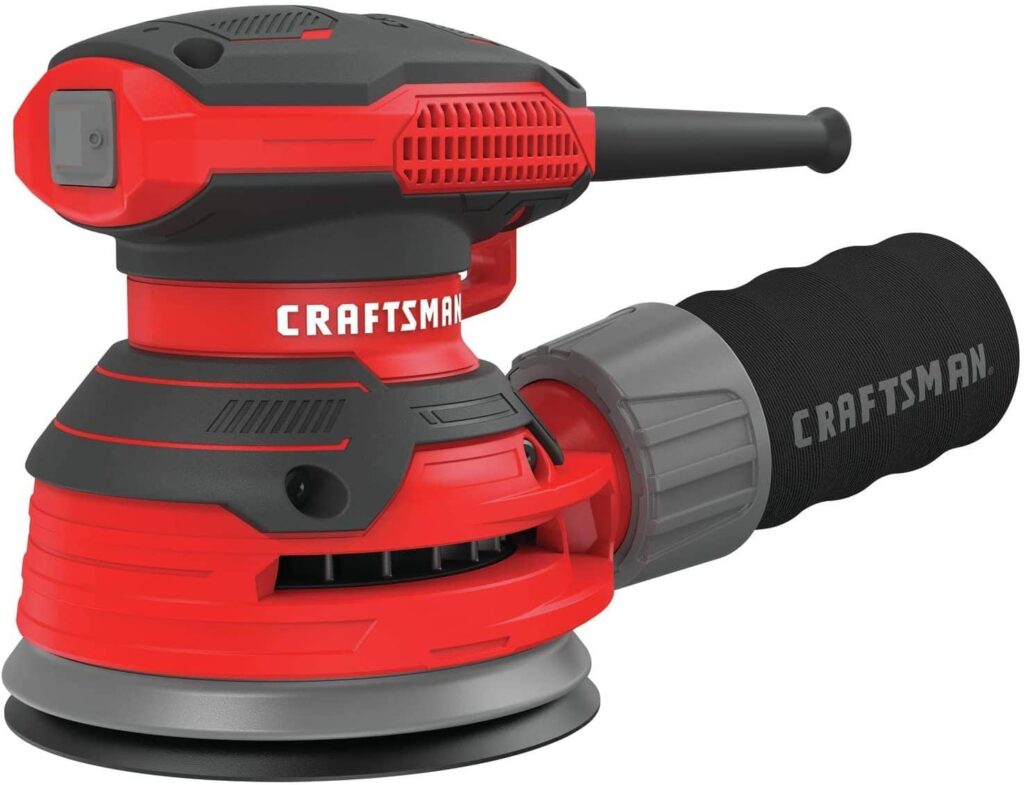 This has got 3-amp power on the motor that can provide you with a 12000 OPM speed on the go. So, you can expect some quick and powerful sanding right away.
The build quality and the compact size and lightweight just work out perfectly. You can expect durability and comfort of usage from this sander a lot.
Good Side
The sander is quite powerful in use
It has got excellent build quality
The dust collection port is pretty good
It's very easy to use for the compact and lightweight body
This is an extremely value for money sander
Bad Side
The vac connection is pretty awful
This doesn't have a variable speed control
Also Read Blog On
#4 Makita Cordless Random Orbit Sander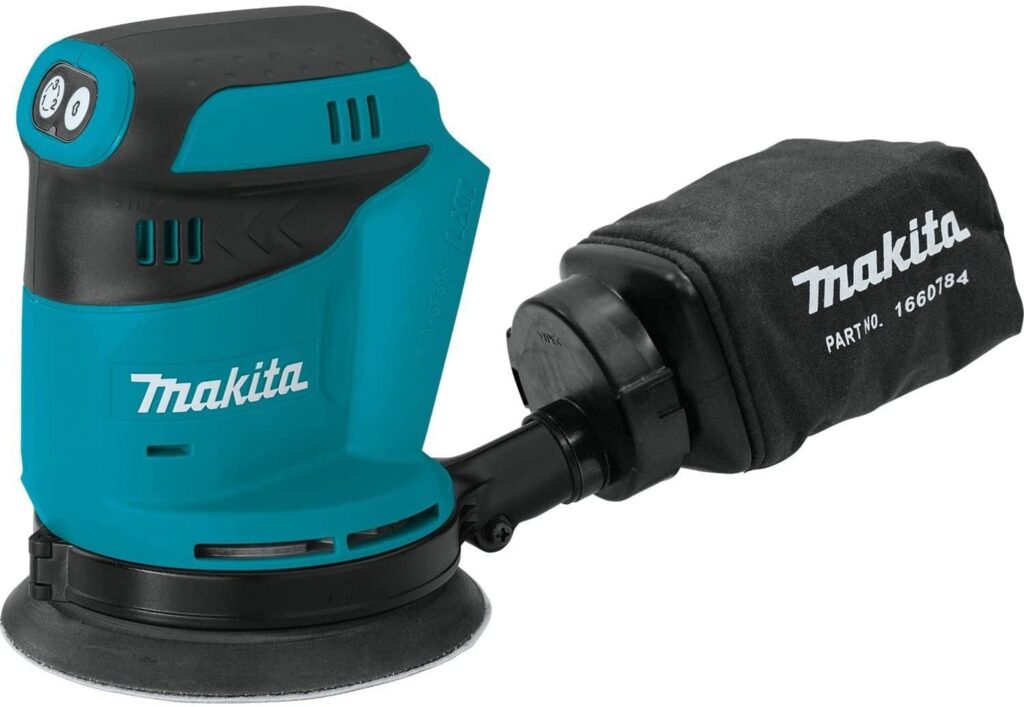 This one never fails to deliver when you want the best performance out of a cordless random orbital sander. It comes with some fantastic performance, including quick and smooth sanding.
The sander has a powerful 3-amp motor and a variable speed ranging from 7000 to 11000 OPM. So, you can get power and reasonable control over your projects.
The whole thing is compact and lightweight, along with some comfort-providing features. It makes using the sander much easier for everyone out there.
Pros
This is a pretty powerful sander for its purpose
You get variable speed options for better control
The ergonomic handle makes it comfortable to use
With the adjustable handle, you can reach tough spots
The overall sanding performance is fast and smooth
Cons
The dust collection is average
The shop vac connector is not that great
Check Makita Cordless Random Orbital Sander At Amazon
Best Belt Sander For Table Top
# WEN 6321 7-Amp 3 in. x 21 in. Corded Belt Sander
Now, if you are looking for a belt sander, Wen 63217-amp belt sander is one of the best you can get out there. It's quite affordable and comes as a complete package for DIYers.
First of all, it has a 7-amp motor that gives you excellent sanding speed from the belt. The belt has a rotation of 13 ft/s, which is quite commendable.
Adding to that comes the compact size and lightweight build. This makes the sander comfortable for use daily.
Good Side
The sander is quite compact and lightweight
It has got decent power for different projects
This is a sander that comes at an affordable price
You get a dust collection bag for least cleaning after the sanding
There are several safety features on the sander
Bad Side
The vent to the dust collection gets clogged at times
It doesn't come with a bag or case
# Makita 9403 4″ x 24″ Belt Sander
If you want to avoid the noise issue from a sander, then this is a belt sander to look at. It comes with a low noise functionality that suits the comfort of the uIt also has as got faster material removal feature with a wider belt of 4″. You can cover a larger surface with this belt sander.
The sander also boasts durability thanks to the labyrinth construction. It seals how dust and debris can enter the tool to damage it.
Good Side
This is a very quiet belt sander
It has got great coverage with a wider belt
This comes with good durability features
The belt sander is quite fast in operation
It's quite compact and lightweight for usage
Bad Side
It's not that smooth in operation
This doesn't have variable speed options
Check Makita 9403 Belt Sander At Amazon
Another belt sander named Koki's Metabo belt sander is good for table top smooth finishing. It is another recommended belt sander for table top sanding.
Also Check out
Rotary Sander For Table Top
#1 DEWALT Rotary Sander
Here is a rotary sander if you are looking for one to meet your heavy-duty sanding needs. You can cover up a larger surface area using this sander.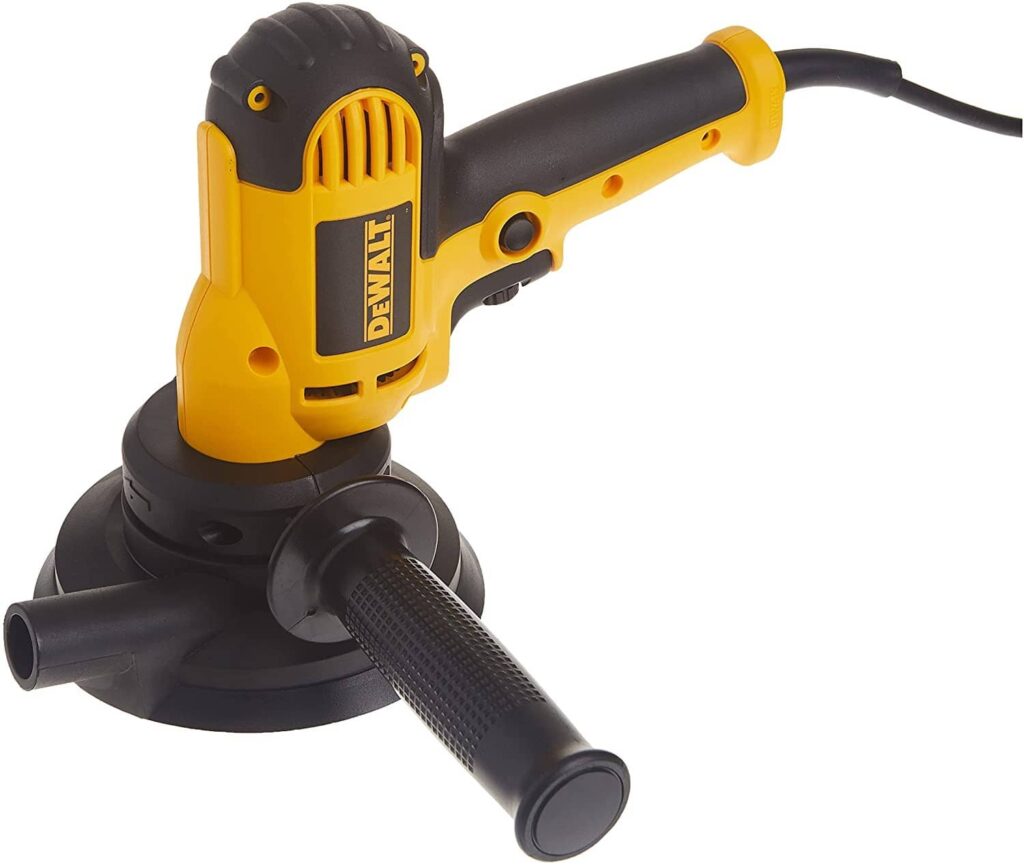 It comes with a variable speed option to give you better control in using the sander. The speed varies from 0 to 3700 OPM, letting you control the whole thing more in-depth.
The sander is very lightweight and comfortable in usage. It's also quite sleek and compact, which makes the maneuverability much better on the sander.
Good Side
It features excellent power with a 6-amp motor
There is a variable speed option on the sander
It's lightweight and compact
This is a value for money sander
The sander is pretty quick to cover a larger surface
Bad Side
The sander can vibrate a lot which can make it difficult to handle
The motor can start smelling a bit hot after a while
Check Dewalt Rotary Sander At Amazon
Best Sheet Palm Sander For Table Top
#1 Ryobi P440 One+ 18V Lithium-Ion 12,000 RPM 1/4 Sheet Palm Sander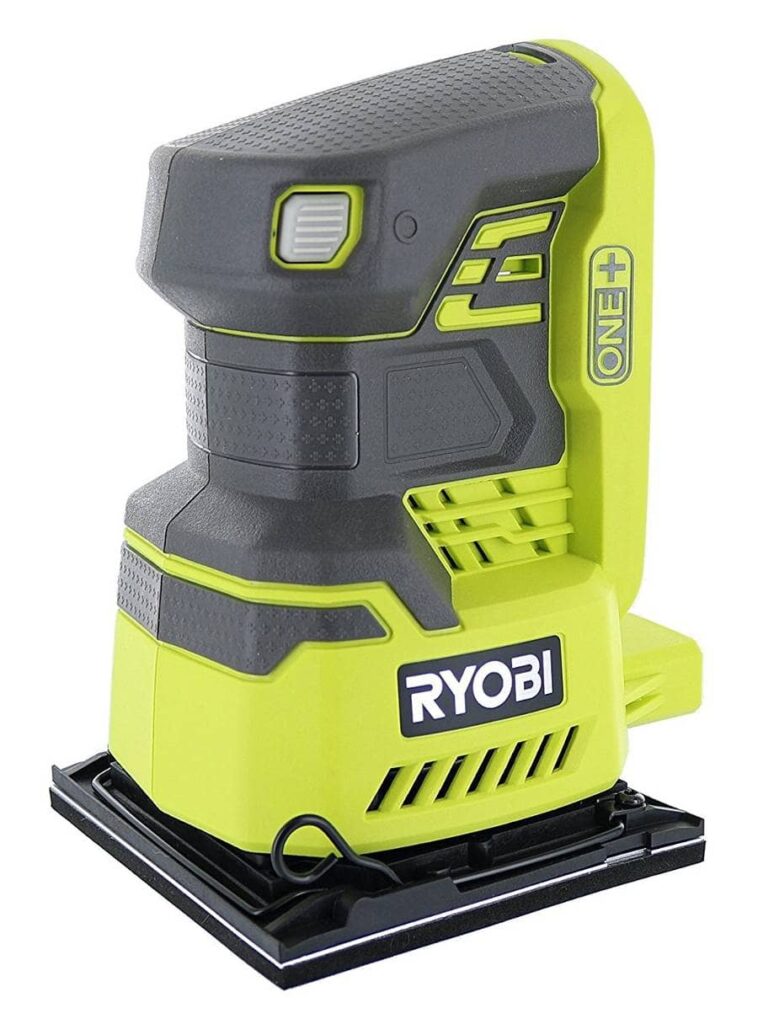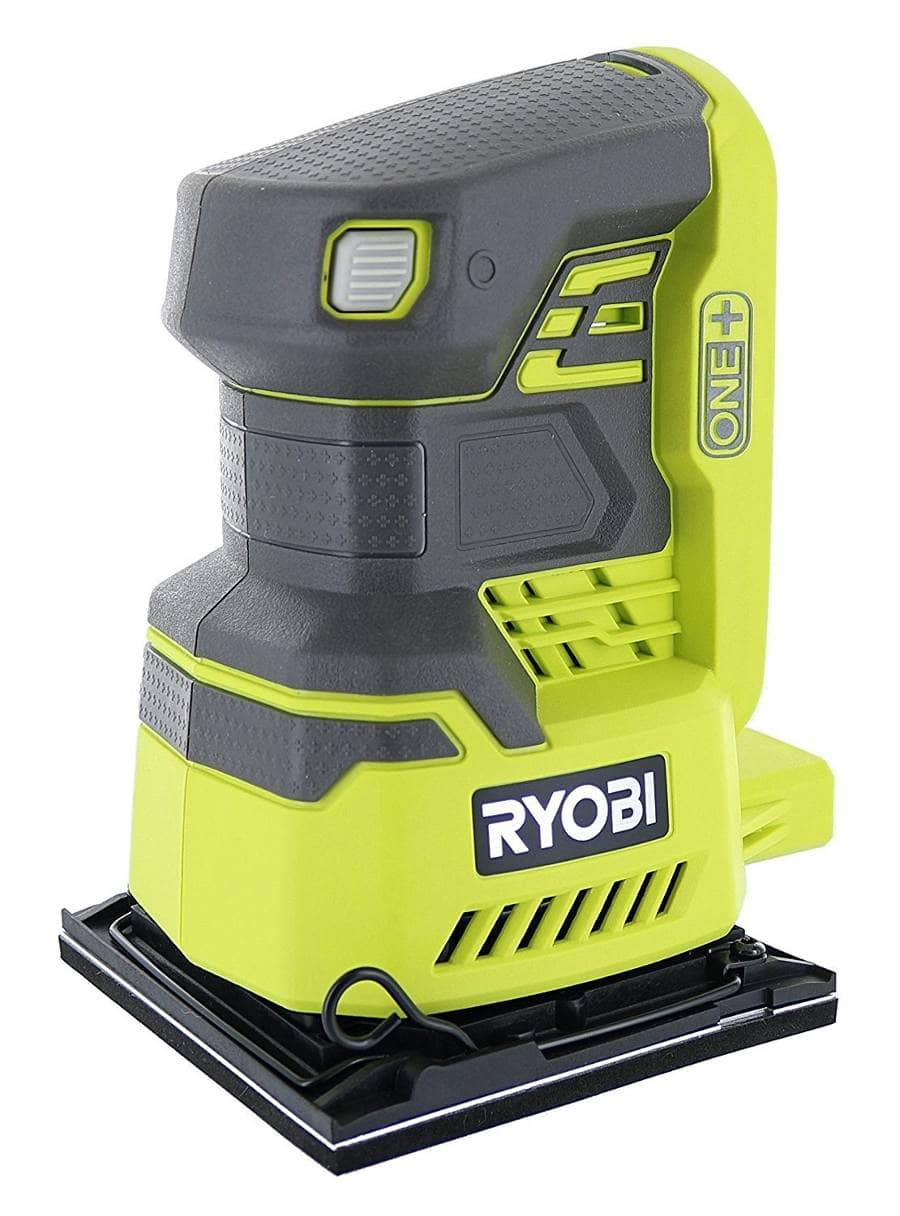 Well, this is the only palm sander on this list and, without a doubt, one of the best ones you can find. It's a cordless palm sander that which works pretty well for the scenarios.
Since you don't need too much power from a palm sander, you can easily use a cordless one anyways. This gives you the convenience to work almost anywhere using this tool.
You can use almost any standard square sandpaper sheet for this palm sander. It works with a lot of custom sandpaper sheets which is a huge advantage on this one.
Pros
The sander is cordless, so you get the convenience
It's pretty compact and lightweight to use
It has got decent power and speed for a palm sander
There is a dust bag to reduce your cleaning hassle
It works with a lot of custom sandpaper sheets
Cons
This doesn't come with the battery
The sandpaper sheets have fitting issues
Check Ryobi Cordless Palm Sander At Amazon
What To Consider When Choosing The Best Sander For Table Top
Buying the best sander for tabletop won't be as easy as you would think. The reason is that there are countless options that you will come across when looking for a sander. Choosing one among them will come down to the details and value each provides.
To get the best one for your personal preferences, you must go through some factors. Considering these factors help you choose the perfect sander that best meets your needs. So, let's go through the elements you should be checking out before buying the best sander.
Power Source
There are typically three types of power sources for sanders. Let's see what each power sources provide you.
Corded Sanders
Corded sanders get power from electricity through the connection to a power outlet. These are great for continuous power and long hours of sanding. But this one can limit your movement, and handling the cords can be a bit troublesome as well.
Cordless Sanders
Cordless sanders work the best when it comes to convenience and freedom of movement. They provide cord-free operation so you can move around and do your sanding. However, they won't be mighty, so you can't use them for heavy-duty projects. Also, you can't use them for long hours of work.
Pneumatic Sanders
Now, this is where you have to think a lot. Pneumatic sanders get power from an air compressor and can be quite powerful in operation. But getting a powerful air compressor to power a pneumatic sander can be expensive. Unless you have a powerful air compressor in your possession, it's better to avoid the pneumatic sanders regardless of how powerful they can be.
Speed
Coming to the speed, it depends on your purpose from the sanding project. If you are looking to get a smoother finish and more pleasing sanding, a lower speed is preferable. But if you are looking to remove a lot of material quickly, you can go for a higher speed.
For the versatility of your work, it's best if you can find a sander with variable speed options. That way, you can get all kinds of results from the same sander.
Runtime
Now, this depends on whether you are working on a project that requires long hours of sanding or not. If you need a sander to use for long hours, then the best option is to go for a corded electric sander over a cordless one.
Sure, cordless ones are great for movement, but they have a limited runtime as long as the battery lasts. Typically, that duration is around 30 minutes to 2 hours at max.
Sanding Pad Size
Sanding pad size has a lot to do with the sanders you choose. You can find sandpapers in different shapes that go well with certain sanding pads. Usually, rotary sanders use the standard sizes for the sanding sheets on them.
However, if you are working with a detail sander, you might have difficulty finding the perfect sanding sheets for the pad. Because the shape is unusual, you have to go for the specific replacement part from the manufacturer most of the time.
So, you have to consider the sizes for the sanding pad according to the availability of the sanding sheets.
Ease Of Use
Well, if you are DIYer or hobbyist or maybe a beginner, ease of use can have a lot of impact on you. This comes down to things like maneuverability, functions, control, speed, and so forth. You have to go for one that is easy to control and use compared to one that comes with many complexities.
Additional Features
Apart from all these, you can check out the additional features, which sometimes are the deciding factor for a sander. You can look out for features like –
Pressure detection
Pressure detection is the feature that tells you whether you are putting too much pressure on the project or not. You can change it up and adjust things accordingly if you are. It's pretty handy.
Dust-collection bins
Sanding produces a lot of dust so that you can reduce the cleanup work for later on with a dust collection bin. You don't need to spend too much time cleaning after sanding.
Safety features
Features like trigger locks, vibration padding, emergency stopping can help a lot in avoiding extremities that can come with sanders.
Accessories
You can also hope to get accessories like extra sandpapers, sanding discs, carrying bags or cases, different attachments. These can also differentiate between a sander you choose and one you end up rejecting.
Versatility
There aren't many options for versatility that you can find on sanders when it comes to versatility. The closest any sander can go is a belt sander. They tend to have enough power to remove material while featuring a lightweight and portable build to reach tough areas.
You can also look for sanders that support both belt sanding and have a detailed sander attachment to finish off the process. This way, you can end up with the perfect versatility you need from a single sander.
Tips on Using Your Sander on a tabletop
Here are some tips and tricks you can use for using your sander on the tabletop –
Start with coarse grit and finish it off with a finer grit to get the best results.
Make sure the piece you are working with is stable and not moving around.
Try to maintain consistent pressure on your sander to get better results.
Keep the sanding throughout the work, piece and don't miss out on specific spots.
You can use sandpaper and finish the tricky areas to cover the whole thing with your hands.
How to sand a Tabletop
Let's start this off with the process of sanding a tabletop. I will go through a step-by-step guide on how you can sand a tabletop. You can simply follow them, and you should be good.
The first thing to do is take all the safety measures like wearing goggles and face masks. You can also wear working gloves before starting to sand on your tabletop.
After that, you have to prepare your tabletop for sanding. Use a lint-free cloth and wipe down the table with no dirt or dust on the tabletop.
Now, prepare your sander whether it's a hand sander or an electric one. Staring with a coarser grit like 80 works out the best most of the time.
After sanding the surface with the coarse grit for a while, you can move on to using the medium grit or 150 grit. Sand with the medium grit completely, and then you can move on to a finer grit of around 220-grit.
Once you have sanded the tabletop with all three grits, you can remove all dirt and dust from the wood. Then, you have to use a wood conditioner to help it absorb the wood stain that you have to put on later stages. You can use a coating of wood conditioner and let it sit for 10 minutes.
Next up, you have to apply the wood stain on the table. Make sure you are stirring the stain properly before you put each coat. The number of coats determines the darkness of the color you get on your wood. The least amount of coat should be 2.
You have to leave the stain on the tabletop for about 24 hours before you can proceed further.
After letting the stain sit for 24 hours on the tabletop, you can simply finish it off with another sanding session with a finer grit of 220. However, you have to use a hand sander in this case because you can't put too much power or pressure in this sanding step. That can ruin the stain you put on the tabletop.
You have to wait for another 24 hours before starting using your table.
Now, aside from sanding your tabletop, you also need to sand the chair legs to complete the details. It's a bit different from sanding a tabletop, so let's check that out here.
Sanding the legs of chairs to get details
Sanding the legs can be pretty critical because some table legs can have curves and rough edges. If you have table legs that aren't flat on the surface, then you will need to use a hand sander. Electric sanders don't work that well when the table legs aren't flat. Even if you can, getting those details can be pretty challenging.
As for electric or automatic tools, you can use a rotary tool or a file sander, but that doesn't work as well as sanding with your hands especially when you want the best details from your chair legs.
You have to start with 80-grit sandpaper and sand the surfaces properly. Then, you can move on to the 150-grit sandpaper. Ensure you are sanding the legs properly to get those details coming in. Later on, you can finish off the sanding with 220-grit.
Aside from using sandpaper and your hands, you can also use a detail sander if you want any particular shape in your table legs. As for stains, you can use it to get that glossy finish after the first sanding session, just like you would do for sanding a tabletop.
Frequently Asked Answer (FAQ)
Let's check out some of the most common questions regarding the best sander for tabletop –
What kind of sander do I need for a table?
This mostly depends on the project. If you are refinishing a table, then a palm sander or a detail sander can do great. But if you need to remove material from the table, then a belt sander or a rotary sander works the best.
How long does it take to sand a tabletop?
Depending on the size of the table, it can take somewhere from 5 to 15 minutes to sand a tabletop properly.
Should you wash wood before sanding?
No, you shouldn't wash wood before sanding. You can surely wipe off the dirt and dust from the wood. But washing it is a bit extreme and something you should avoid.
What size of sandpaper works best for sanding a table?
Usually, using 100-grit sandpaper is the standard for sanding a tabletop. But you can go ahead and try the 80, 150, and 220 grit sanding to get much better results
Can I use an orbital sander on a tabletop?
Yes, you can use an orbital sander on a tabletop to get your desired finish. You can either get a random orbit sander for some lightweight work or rely on a rotary sander for the heavier job.
Wrapping Up
All in all, getting the best sander for tabletop always comes down to your purpose of using it. Whether you are doing a lightweight project or a heavy-duty one will decide on the sander you use.
You can rely on random orbital sanders or palm sanders for lighter jobs. They are great for putting those finishing touches on your tabletop without damaging the surface.
When you need to remove some material from the tabletop, you can use the rotary sander or the belt sander. So, that's all you need to consider for getting the best sander suiting your preferences perfectly.
Also read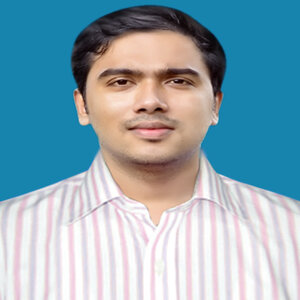 I am Imtiaj Islam. I am a wood working enthusiast, having 6 years of experience in carpentry work. I have a BBA graduate degree from Chittagong College. I got vocational training on wood works from Korean Polytechnic out of the quest and zest he has for carpentry as well. I take several wood projects and keep testing different woodworking tools for comfortable and perfect work. I just love playing with woods and machines.