Japan has been the land of innovation for hundreds of years. This country has introduced tons of innovative mechanical tools synonymous with quality and efficiency. From this same country originates Metabo HPT, a super popular power tool manufacturing company worldwide.
You might not recognize the name, as the company changed its name to Metabo from Koki Holding just a few years back. But one thing that didn't seem to change is the excellent quality this brand has delivered.
So, after 70 years in the industry, is the brand still delivering the quality it's known for?
Let's find out in detail.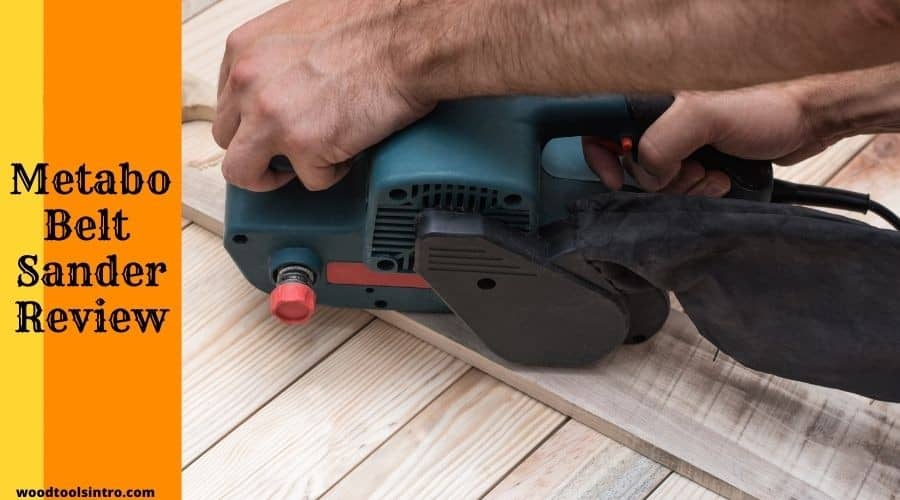 Also check
Is A Belt Sander Worth The Money?
A belt sander is an essential and useful tool to smoothen different surfaces. Now, anyone who has done sanding manually knows how challenging this job actually is. Not only does it take a lot of time, but you also don't need that accurate measurements or skillset to sand now.
Unfortunately, there are not many tools in the world that can save you time as a belt sander does.
Now, if you consider the hard work and time that go into sanding something manually versus sanding with a powerful belt sander, this tool is definitely a lifesaver and worth every penny.
Is Metabo A Good Brand?
As I mentioned earlier, Metabo HPT went through a name change in 2018, and since then, this has been a frequently asked question among power tools users. If you previously used Hitachi Koki Ltd. products, you should know how great their products were. Even now, after the name change, it proudly continues to offer the same quality products to its users.
Now, if you are entirely new and thinking about buying a product from Metabo HTP, you should definitely go for it. Of course, like any brand, not all of their products might not be the best. But as a brand, Metabo HTP offers reliability, affordability and, most importantly, the performance that very few brands do in today's market.
Metabo has made a supreme place in belt sander market with excellence and durability. It has created its zeal in the heart of millions carpenters. It is a perfect competitor for another great brand Wen sanding machine.
Metabo HPT SB8V2 Belt Sander (3x21inch Belt Sander)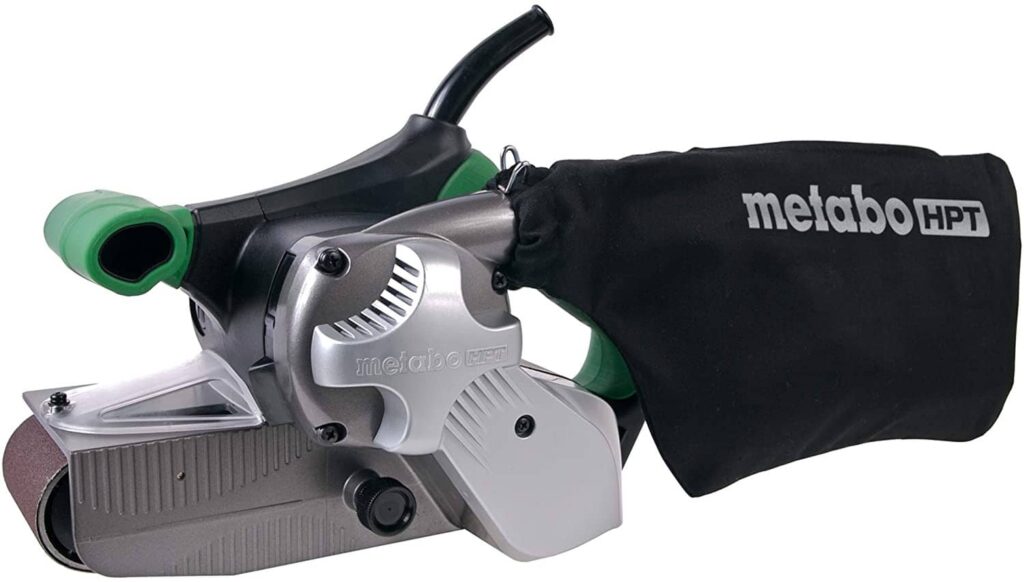 Metabo HPT SB8V2 comes with a belt size of 3″ x 21″, which puts it right into the most completive segment of the handheld belt sander on the market. However, this belt sander has managed to stand tall with an excellent array of features.
Let's talk about the size first. As a handheld belt sander, the size is pretty standard and easy to maneuver. However, some users seem to complain about the weight of this handy belt sander. However, the heavier weight also has a plus side as it ensures that the belt sander doesn't jump around awkwardly like some lightweight options.
Overall, I find the design and shape super convenient.
Next up, let's move on to the motor and power supply. These are the two things that determine how a belt sander should perform.
For now, Metabo HPT SB8V2 seem like a winner in this segment. With a 9 amp, 1020 watt motor, this belt sander is mort ha capable of handling any sanding job you throw at it.
Also, it's super impressive to see this kind of power in a belt sander.
At the bottom of the handle sits my favorite feature of this belt sander. I am talking about the variable sanding speed dial.
With just a twist of the hand, this feature allows you to maximize the usage by changing the sanding speed according to the application.
After the power, Metabo HPT has a lot of effort in the convenience department. If you look closely at different parts, it'll be clear from the get-go. For example, the soft rubber grip on the handle provides tons of hold to grab the belt sander tightly.
A sanding job can take up to hours, but hand fill and texture of the grip will decrease the fatigue of holding this vibrating machine for long. By putting ball bearings into the roller, Metabo also did a really nice job minimizing the vibration.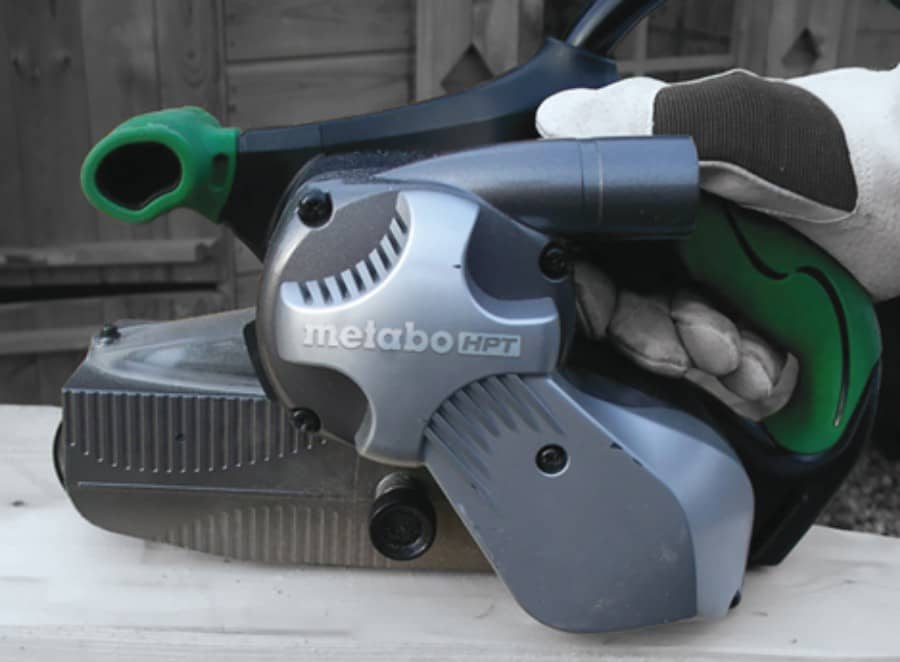 Check Metabo Hpt Belt Sander At Amazon
If you have done sanding before, you should know how disturbing it is to adjust the belt every time after you mount it. Metabo HPT SB8V2 eliminates this problem by equipping the auto-tracking belt system.
Last but not least, the inclusion of dust collection fulfils this belt sander as a whole package. Though the positioning of the collection bag seemed a bit off, it successfully collects most of the dust produced from sanding.
Overall, Metabo HPT SB8V2 is the perfect blend of performance and affordability. Metabo just did wonder by putting together this amazing piece of machinery that does the job perfectly without hurting your wallet. With a feature set and specification like this, this model is a strong contender to be the best belt sander on the market.
What Should I look For When Buying A Metabo Belt Sander
Not all belt sanders in the market come with the same specification. Also, everyone has their specific requirements for specific jobs. All things considered, buying a belt sander can be pretty confusing. As a belt sander can easily cost over a hundred dollars, it's not an investment you would like to make frequently.
That's why we have compiled a few factors you should consider carefully so that you don't regret your decision later.
Powerful Motor
This is arguably the most important factor of a belt sander since the motor will do all the hard work for you. Now, the motor itself doesn't draw the complete picture of the efficiency and power of a belt sander as a whole. But if you do have a powerful motor, that's a great indicator of how well a belt sander will handle bigger projects.
Without the necessary power, you'll be left stranded on any sanding job. So, while considering a belt sander, first ask yourself what type of job you'll do with that belt sander. Even if your line of work doesn't need a powerful belt sander, you should opt for a high amp motor to cover different grounds in future.
Power supply
The power supply is another important factor directly related to the belt sanders performance. Remember I said earlier that the motor doesn't draw the complete picture in terms of performance? With ample power supply, no matter how powerful the motor is, it can't perform at its fullest potential.
The higher amp is not enough; you also need to have a balance wattage number to feed the motor. That's why, besides checking out the motor power, it's essential to check out the wattage too.
Dust Collection System
If you have done sanding previously, you should know how messy a sanding job can be. All the debris and dust from sanding immediately goes airborne and gets everywhere, making absolute chaos in a matter of seconds.
Afterwards, cleaning the dust is another time-consuming process, whether manually or by vacuum. In this case, a dust collection system can be an absolute lifesaver by collecting all the dust and keeping the working surface clean. In belt sanders, the dust is usually collected through a detachable bag at the side of the sander.
Especially for users with respiratory problems, a dust collection system is a must-have since the dust can easily go into the nose or mouth and cause immediate issues.
Auto-tracking belt system
This one might not be a deal-breaker for many, but the auto-tracking belt system is a very convenient feature to have onboard in any belt sander. Usually, after you mount the belt on the belt sander according to the directional indicator, you need to "track" the belt so that it stays in the middle of the roller.
If you don't make this adjustment properly, the belt can either rub against the housing or come off the roller. Either way, it can easily result in poor sanding work.
At this point, you can probably assume what an auto-tracking sanding belt system does. It does exactly what the name implies, adjusts the belt all by itself and saves the hassle and time of adjusting the belt manually.
Sanding speed
The last thing on my consideration list is the sanding speed. Sanding speed pretty much decides the performance you will get out of your belt sander. The higher the motor amp and wattage, the faster the sanding speed. However, make sure the belt sander you purchase can actually translate your motor's power into sanding speed.
Another convent feature to discuss here is the variable sanding speed. Like the Metabo HPT SB8V2, as it comes with a dial at the bottom of the handle so that you can change the sanding speed. It's a super handy feature to have since it allows your belt sander to cover lots of ground.
So, for example, if you need a faster or slower speed for a certain project, you can have both with one belt sander. In short, if you are after versatility, the variable sanding feature is essential for you.
What regular maintenance does a belt sander need?
Like any other power tool, a belt sander requires maintenance to get the best out of it and have a longer lifespan.
Here is a list of regular maintenance you should do:
Check the belt regularly for any wear and tear. If you notice a crack or any uneven spot, that s a clear indication that it's time to change the belt.
Before starting the belt sander, check the power cords carefully. Using the machine with a fault plug brings the chance of accidents and damages the motor.
When you are storing the belt sander or taking a break during use, keep the bets on to protect the drum from debris. Keeping the belt a bit loose at that time is considered the best practice.
Whether your belt sander has a dust collection system or not, clean the sander with a blower after every use. Even with the dust collection system, dust remains inside the drum.
Make sure you use the right sanding speed according to the project. Overusing it can cause unwanted issues as well as poor sanding results.
FAQs (Frequently Asked Question)
1: How do you clean Metabo belt sander?
A: Cleaning the Metabo belt sander is the same as cleaning any other belt sander. While cleaning the whole thing requires vacuuming, the belt is cleaned with different techniques.
Abrasive cleaning stick is the best and most effective method of cleaning the belt on a belt sander.
These sticks are usually made of synthetic or natural rubber. All you have to do is move the stick across the belt while the sander is running until it cleans all the dust.
If you don't have that nearby, you can also use the sole of an old shoe or water-alkaline to clean the belt.
2:
Which items should never be used on Metabo belt sander?
A: The answer to this question is pretty simple. As the abrasive stick or the sole of the shoe, both are made of rubber; anything else should never be used on the belt of Metabo belt sander.

Rubber is the only material that can clear the dust out without affecting the abrasiveness of the belt. Anything else like a metal or plastic brush can result in poor cleaning or damage the belt.
Lastly
Here we are at the end of our review. We hope the article was helpful enough to know about Metabo as a whole and its SB8V2 model. Metabo has done an excellent job of reinventing SB8V2 with noise reduction.
In a world full of loud belt sanders, this features definitely brings a welcome change and makes this belt sander one of the top winner on the market. Additionally, if the confusion still persists, the buying guide should further help you clear out any confusion you have about purchasing this belt sander.
Everything you should look for in a belt sander, powerful motor, convenience, user-friendly usage, affordability, Metabo HPT Packs it all in a small package. For that, Metabo deserves a round of applause.
Related Article

I am Imtiaj Islam. I am a wood working enthusiast, having 6 years of experience in carpentry work. I have a BBA graduate degree from Chittagong College. I got vocational training on wood works from Korean Polytechnic out of the quest and zest he has for carpentry as well. I take several wood projects and keep testing different woodworking tools for comfortable and perfect work. I just love playing with woods and machines.