Whether you're a fresher and sanding is in your blood, having a top-notch sander is needed to perform most of your woodworking tasks. But I've seen many people who get confused when choosing between orbital sanders and mouse sanders for their specific projects.
This is why the detailed orbital sander vs mouse sander comparison is going to show you some of their noticeable differences, including their features, advantages, disadvantages, and some similarities too.
So if you're someone who was thinking that they can be used for the same project, then this article is here to break your misconception!
Sight tight, and let's dig deeper to learn more about them.
Also Check out
Orbital Sander vs Mouse Sander – The Basics & Differences:
Orbital Sander vs Mouse Sander – orbital sanders can work on large-scale projects, while mouse sanders suit small-scale tasks most. Besides, users get the maximum benefit of using orbital sander in terms of removing paint or stains from wood pieces. But a mouse sander is ideal for refurbishing your furniture!
Probably you're waiting to get detailed knowledge on mouse sander vs orbital sander, is it? If yes, you're just a step away from getting all the basics, differences, and similarities.
So let's find out:
Usage Purpose
The purpose of using a mouse sander and orbital sander is pretty different, although they come from similar-category power tools.
Orbital Sander
Although mouse sanders are pretty known for their ability to reach tight areas, orbital sanders have earned a pretty good name in terms of fine, detailed finishing on either heavy-duty sanding tasks or large surfaces.
Because of the square foot it comes with, an orbital sander gets inside of the tiny surfaces where it's difficult to reach with typical sanders/power tools.
Quick Overview of the Usage:
Quickly refinishing furniture made of wood
Getting surfaces prepared for sealing/painting
Mouse sander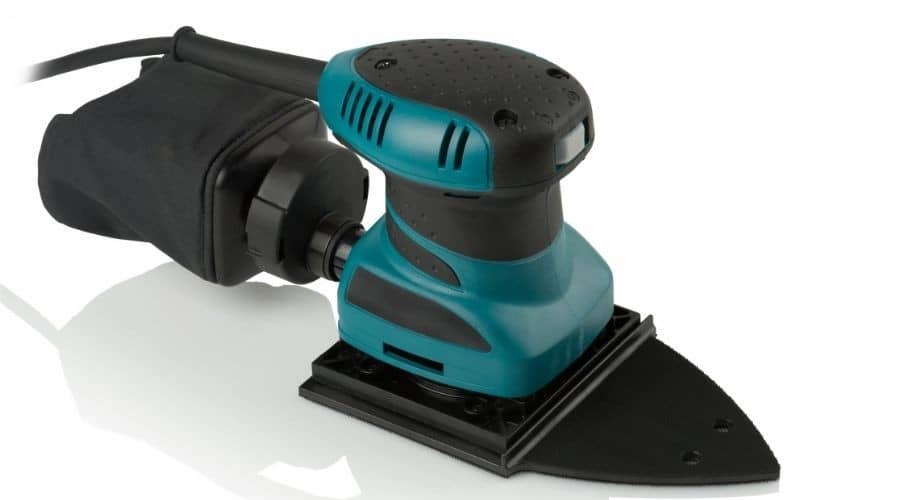 Taking about the mouse sander, it reaches inside small corners, crevices, and tight spaces. This way, it has been used for sanding corners, seams, relatively odd shapes, those tough-to-reach areas.
Probably this is the reason why many people love to call it a corner sander or sometimes a detail sander.
Quick Overview of the Usage:
Finishing doors, windows, and cabinets
Sanding intricate areas, refinishing furniture
What Grit Sandpaper to Use (Orbital Sander and Mouse Sander)
The good thing about these two sanders is that each of them can be perfectly adjustable with multiple grit sandpapers , allowing you to use these power tools on various projects.
As for the mouse sander, it is primarily compatible with fine to coarse grit (from 220 to 40). As a result, anyone can get the maximum benefit using this power tool on several woodworking projects, including rough sanding, taking off old varnish, removing scratches, and so on!
When it comes down to the orbital sander, you'll mostly find it suitable for fine-to-medium grit types (220 to 150). This way, you're allowed to use an orbital sander for sanding unfinished wood and some more tasks related to finishing wood.
NWFA Recommendation
In the fewest possible words, the mission of National Wood Flooring Association (NWFA) is to strengthen and unify the community of wood flooring via education, technical standards, and other sources of networking.
You'll be amazed to hear that almost 95% of orbital and mouse sander's products follow the recommendation of this well-known association!
Drawbacks and Benefits
When you go for using any power tool, it's pretty natural that you have to accept both the pros and cons.
So let's get into a quick overview of these two sanders to get familiar with their advantages and disadvantages:
Benefits Of Mouse Sander
Almost every model seems portable
Works much accurately on tiny areas
Suits tasks related to small scale
Compatible with several attachments
Drawbacks Of Mouse Sander
Wood-pieces may end up with swirl marks!
Can't be the best choice for tasks related to large scales!
Benefits Of Orbital Sander
Relatively handy and multi-functional sander
Delivers a smoother finishing
Will appear to be light in weight
Ideal for taking off stains and paints
Drawbacks Of Orbital Sander
This one also might leave marks at times!
Shouldn't be used to eliminate the layers of thicker paints!
Power Usage
Speaking of the power source and usage, each of them comes in two different options in general, including corded electric sander and cordless or battery-powered sander.
Although both are suitable to perform any woodworking projects, the corded one may give you more power and efficiency needed, especially to deal with heavy-duty tasks.
But if you need to work on those areas where electricity and power outlets aren't that available, then a battery-powered device should definitely be your cup of tea, it doesn't matter whether it is an orbital sander or a mouse sander.
Size and Construction
Here is what you'll find similarities while comparing orbital sander vs mouse sander. Both of them usually use plastic or metal more often as a primary material. This way, users find them durable enough to withstand heavy pressure and torture!
As I've mentioned before, orbital sanders and mouse sanders are quite popular due to their small frame, portable design, and lightweight structure.
As a result, you won't notice any dissimilarities while comparing them in terms of size and overall structure.
Features
Orbital sanders mostly have sanding pads that are kind of "square-shaped" and run in circles. You won't find them aggressive, but of course, pretty gentle.
The feature that makes it stand out from the rest is that it can perform quite smoothly on the surface of large areas.
Noticeable Features Of A Orbital Sander
Excellent speed and power
Top-notch grits
Effective dust collection system
On the flip side, mouse sanders assist you in refurbishing wood floors and furniture using their sanding discs of "triangular-shaped."
In terms of detailing and providing a fine finish, only a few models may beat a mouse sander, which is why it's also popular as a "detail sander" to some customers.
Noticeable Features Of A Mouse Sander
Very portable
Optimal speed
Compatibility with both fine, medium, and coarse grits
Efficiency
When we talk about any woodworking projects, efficiency plays a key role. It has to be fixed about which power tool you're going to get yourself from optimal and mouse sander.
It's also necessary to determine your daily woodworking projects, for which you can get the right tools. By doing so, you can enhance the efficacy and get the most out of your sanders.
Orbital Sander vs Mouse Sander – Similarities & Dissimilarities
Similarities At A Glance
Each of them is portable refinishing sander and mostly lightweight
Both orbital and mouse sanders are friendly with hard-to-reach areas
Unfortunately, nobody can't withstand swirl marks
Dissimilarities At A Glance
Mouse sanders include sanding pads with a triangular shape, while orbital sanders feature sanding pads of square shape
A mouse sander generally follows the motion of back and forth, whereas an orbital sander performs its task in circular motion
When we talk about removing stains and existing paints, orbital sanders come in handy. On the other side, mouse sanders aids in refurbishing furniture in the way it requires
Safety Tips:
Always follow the manufacturer's guide
Before you start sanding, giving a read on the user manual is required
Put on safety gloves, goggles, and helmets
Always check the power outlets before you start working with your corded sander
Try to be as gentle as possible while woodworking
Take help from experts when you face anything wrong in the middle of your work
What Jobs Is the Orbital & Mouse Sander Ideal For?
Although both sanders are designed for woodworking projects, you won't get the same results using them on the same project. For instance, when it comes to getting surfaces well-prepared for either painting or sealing. Besides that, you can also remove the existing paint and stain from your wood pieces using this power tool.
But suppose you talk about refurbishing or detailing furniture, performing small-scale projects, and going in very tight areas. In that case, I can guarantee that orbital sanders can't beat the efficacy of mouse sanders!
Which One to Choose for and Why?
I don't need to know whether you're a newbie or a professional! I just need to confirm is what project you're going to accomplish.
In a nutshell, mouse sanders work excellently in terms of detailing, refurbishing furniture, whereas orbital sanders are more suitable for removing stains, paint, and such things from your wood pieces.
Frequently Asked Questions (F.A.Q):
1. Is a mouse sander better than an orbital sander?
Nope! As you already know, each of them has got own unique specs, pros, and cons. Woodworkers have been using them for different working purposes, so it's not a good idea to make one better than the other.
2. What kind of sander do you need to refinish furniture?
Though it depends on which type of furniture you're going to refinish, my personal suggestion is to rely on the detail or mouse sander if refinishing furniture is your primary task.
3. Can you sand out scratches in wood?
Unfortunately, both orbital and mouse sanders aren't able to withstand swirl marks. However, it's a wise decision to sand the wood surface once again in order to take out as many scratch marks as possible.
Last Words!
Here, I tried my level best to show you all the similarities and dissimilarities by comparing the orbital sander vs mouse sander. As you can see, there is no single sander that can meet all your needs at once.
You have to give priority to the one that matches your woodworking tasks most, and that's it. Stay safe and happy sanding!

I am Imtiaj Islam. I am a wood working enthusiast, having 6 years of experience in carpentry work. I have a BBA graduate degree from Chittagong College. I got vocational training on wood works from Korean Polytechnic out of the quest and zest he has for carpentry as well. I take several wood projects and keep testing different woodworking tools for comfortable and perfect work. I just love playing with woods and machines.